The shapes rising from this poster begin as smooth, perfect circles, an ode to the elegant roundness and grounded rhythms of Schubert's Great Symphony. Yet as they elevate, they morph into pointed, jagged triangles, citing the abstract modernity in the Bartok and Stravinsky.
This was the first poster that we tackled together as a UCBSO Design Team, and our very first listening party / brainstorming session actually yielded a very different set of ideas . The original concert program featured Salonen's LA Variations and Ravel's Rapsodie Espagnole instead of either the Stravinsky or Bartok, so our sketches touched upon an industrial gears-and-marionettes theme evoked by the aural landscape of LA Variations, or a vintage Spanish flair from Rapsodie Espagnole.
A few weeks later, though, the announcement of the new program sent us back to the drawing board. This time, we went for something geometric and abstract that would relate the straightforward, hummable Schubert tunes with the complex, irregular tones in the Bartok and Stravinsky. We did a lot of Pinterest searches involving the words "abstract," "geometric," and "explosion:"
Follow Cindy's board UCBSO Mar 2015 on Pinterest.
From there, it was a lot of shape-drawing, re-coloring, re-sizing, and nudging until we arrived at the final poster design.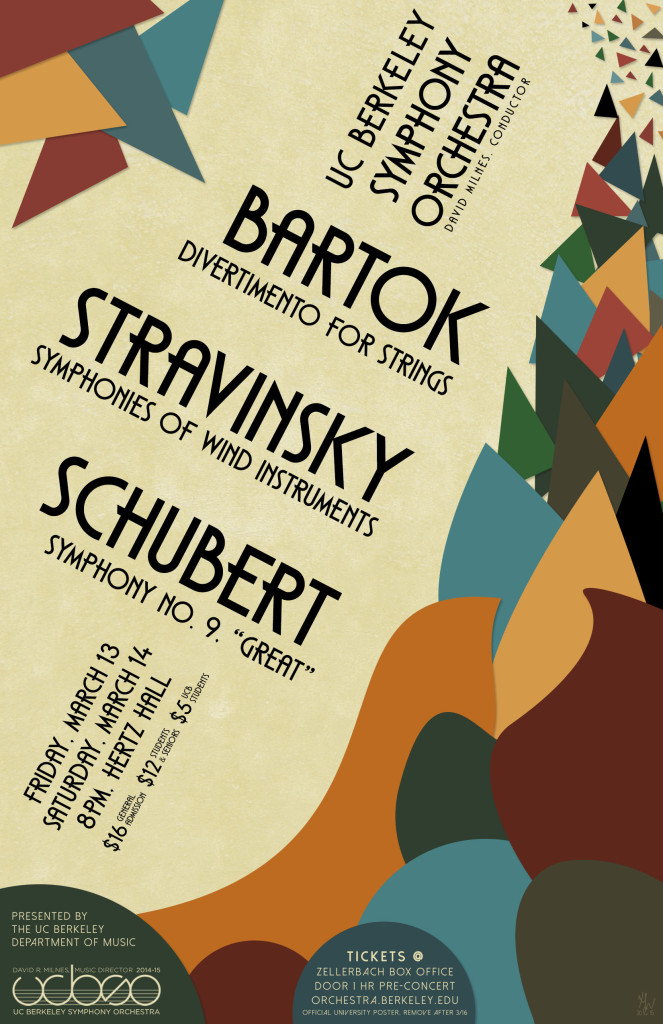 This project also inspired a dress (!), my first (and probably only) foray into clothing! More on that soon.
My previous design projects have always been solo or duo affairs, and I have to admit that when we started, I had no idea how to handle leading a creative team of four other very capable individuals. I'm so grateful to them for their patience and input – this would not have been possible without them!
UCBSO Design Team: Andy Cheon, Irene Kim, Vicky Lin, Ben Taube